Alt-azimuth Dob and DSLR Equipment Used in Double Star Measurements
David Haworth and Tom Frey
Below are the descriptions of the telescope, DSLR and computers used in the alt-azimuth Dob project that was to determine if the double star angular distance (rho) and the position angle (theta) measurements can be successfully made with a motor driven alt-azimuth Dob without a field rotator.

Telescope
The Tom's telescope is an Obsession 18 inch f/4.5 Classic DOB (Dobsonian telescope) with a 1900 mm (+- 50 mm) focal length. Shorter truss poles allow the DSLR (digital single-lens reflex) camera to be put at the telescope focal plane. The telescope has a ServoCAT Goto Drive System which tracks the sky using alt-azimuth servo motors. Tracking the sky with alt-azimuth motors will result in field rotation during long exposures.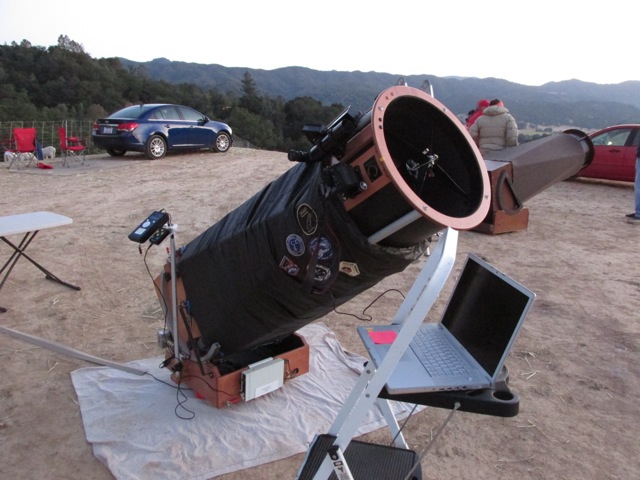 Tom Frey's Obsession 18 inch f/4.5 Classic DOB, Photo by Tom Frey

DSLR Camera
Tom's Canon EOS T2i DSLR camera has a APS-C size (22.3 x 14.9 mm) ~18.0 million effective pixel (5184 x 3456) CMOS sensor and the camera provides 14-bit RAW image files and 8-bit JPG files. The 14-bit raw image provides 64 (2**6) times the dynamic range of a 8-bit JPG image and the 14-bit raw image does not have lost of data due to JPG lossy compression. The camera supports an extended ISO range from 100-6,400. The Canon EOS EOS T2i features an enhanced Live View mode which simplifies focusing on the stars.
The Canon EOS T2i DSLR camera lens is replaced with a T-mount (T-ring) adapter. T-mount adapter provides T-threads (M42x0.75 metro thread) for mounting a 2 inch camera adapter which is mounted in the telescope 2 inch focuser. The T-mount adapter and camera adapter needed to be purchased. Also, 2 inch extension tubes were purchased to allow eyepieces to be used with the shorter truss poles.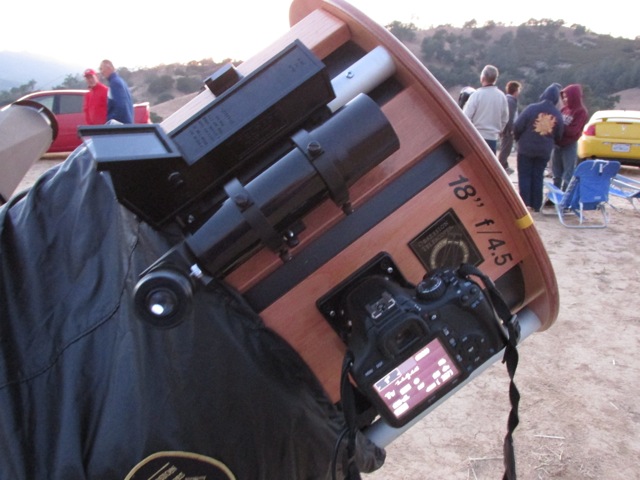 Tom Frey's Obsession 18 inch f/4.5 Classic DOB with Canon EOS T2i DSLR camera, Photo by Tom Frey

Focusing
A Bahtinov focusing mask is used to help focus the stars on the camera sensor.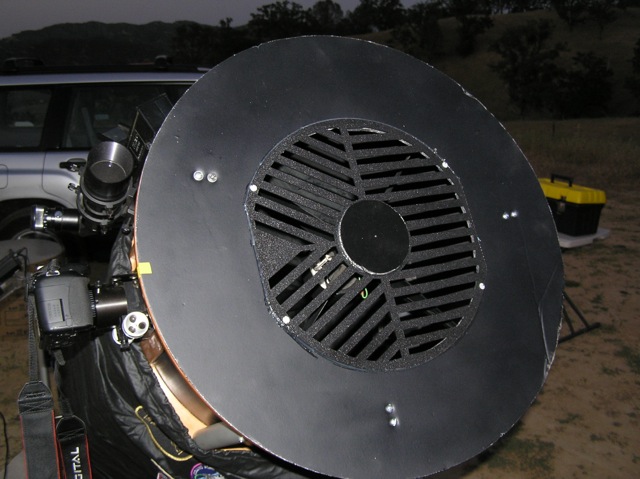 Tom Frey's Obsession 18 inch f/4.5 Classic DOB with Bahtinov focusing mask, Photo by Tom Frey

Computers
Tom's computer is a MacBook laptop running OS X Mountain Lion. Apple Boot Camp is used to run Windows 7 in a separate partition on the MacBook hard drive.
David's computer is a MacBook Pro laptop running OS X 10.8.2 Mountain Lion. David uses Parallels Desktop 8 for Mac virtual machine to run Windows 7 Professional SP1, Windows XP Professional SP3 and Ubutu 12.04.1 LTS.
Apple FaceTime using the Internet is used for free video calls between David and Tom.
The Canon CR2 image files are ~30 MB and they are too large to send by Email. Xoom Data Services, Inc. LargeFilesASAP is a free file transfer service used to send large files between Tom and David. LargeFilesASAP keeps the file on the server for 24 hours before it deletes the file.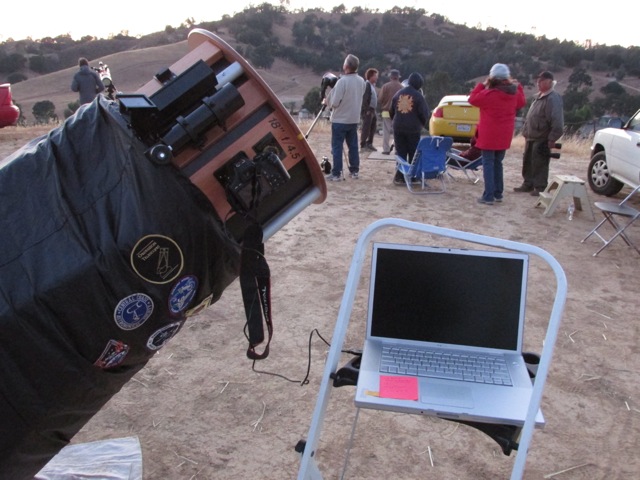 Tom Frey's Obsession 18 inch f/4.5 Classic DOB with Canon DSLR and MacBook laptop, Photo by Tom Frey

Links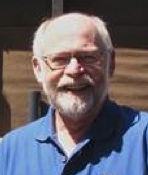 Thomas G. Frey
Thomas G. Frey is Professor Emeritus of Chemistry at California Polytechnic State University, San Luis Obispo, CA. He has been an active member of the Central Coast Astronomical Society for over 25 years. He was a team leader at the Pine Mountain Observatory (PMO) Summer Science Research Work- shop, Bend, OR, 2009 and co-director of the PMO workshop, summer of 2011.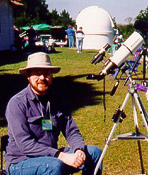 David Haworth enjoys astronomy imaging and processing those images to bring out details that cannot be seen easily by visual observing with the same size optics. David Haworth started astroimaging with a Cookbook CCD camera he built in 1996 and since then has used many types of cameras to image the sky. David wrote Chapter 2: "Afocal Photography with Digital Cameras" in the second edition of "The Art and Science of CCD Astronomy" which was published in December 2005. David's images have appeared in magazine front covers, articles, books, catalogs, videos, music CD covers, T-shirts, other web sites, etc.