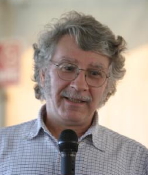 Richard Berry is an author, editor, and software programmer focused primarily on amateur astronomy. His books include a classic, Build Your Own Telescope, a popular introduction to observing, Discover the Stars, the acclaimed manual for big Dobs, The Dobsonian Telescope (with David Kriege), and the book best known to NEAIC attendees, The Handbook of Astronomical Image Processing (with Jim Burnell), which includes the Astronomical Image Processing for Windows (AIP4Win) software widely used for image processing as well as both photometry and astrometry.
At age 13, Richard built his first telescope (a 6-inch f/7 Newtonian) and moved on to construct an 8-inch f/10 planetary telescope, a 6-inch RFT, a 12-inch f/7 Newtonian, and an 8-inch Dall-Kirkham Cassegrain. He observed all of the planets, most of the Messier objects, and made deep inroads into the NGC catalog. In those distant days of darkroom chemistry and bromide paper, he specialized in lunar and planetary astrophotography.
After majoring in astronomy for his B.A. degree, Richard went on to present a thesis on photoelectric photometry earning an M.Sc. in astronomy. In the technology world, he has designed rocket payload instrumentation, measured air pollution (ozone and hydrogen sulfide) using a laser beam, and tested key components for the Ultraviolet Absorption experiment (MA-059) flown aboard the Apollo-Soyuz Test Project.
Switching from technology to editing, Richard served a ASTRONOMY magazine's Technical Editor, then Editor, and finally Editor-in-Chief, for sixteen years, and played a key role in building the fledgling magazine's circulation from 38,000 in 1976 to its peak at 252,000 in 1988. During his years at ASTRONOMY, Richard built a strong, effective, and knowledgeable editorial staff, and worked tirelessly to ensure that manufacturers present only honest and accurate claims in their advertisements.
During his years at ASTRONOMY, Richard founded and edited Telescope Making, a quarterly magazine devoted to the community of amateur telescope makers. From 1978 through 1991,Telescope Making introduced its readership to the Dobsonian telescope, the Poncet platform, tilted-component telescopes, and many examples of outstanding amateur observatories.
From 1992 to the present, Richard has written and coauthored a string of books about telescope making, imaging with CCD cameras, and image processing. He has given countless talks and participated in workshops at conferences around the world. His current book, due out this summer or fall, is a comprehensive ray-trace analysis of the telescope, eyepiece, and astrographic camera designs available to today's amateur astronomer.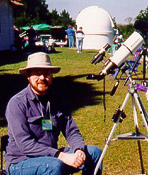 David Haworth enjoys astronomy imaging and processing those images to bring out details that cannot be seen easily by visual observing with the same size optics. David Haworth started astroimaging with a Cookbook CCD camera he built in 1996 and since then has used many types of cameras to image the sky. David wrote Chapter 2: "Afocal Photography with Digital Cameras" in the second edition of "The Art and Science of CCD Astronomy" which was published in December 2005. David's images have appeared in magazine front covers, articles, books, catalogs, videos, music CD covers, T-shirts, other web sites, etc.