Moon North Terminator at 18 Days 10 Hours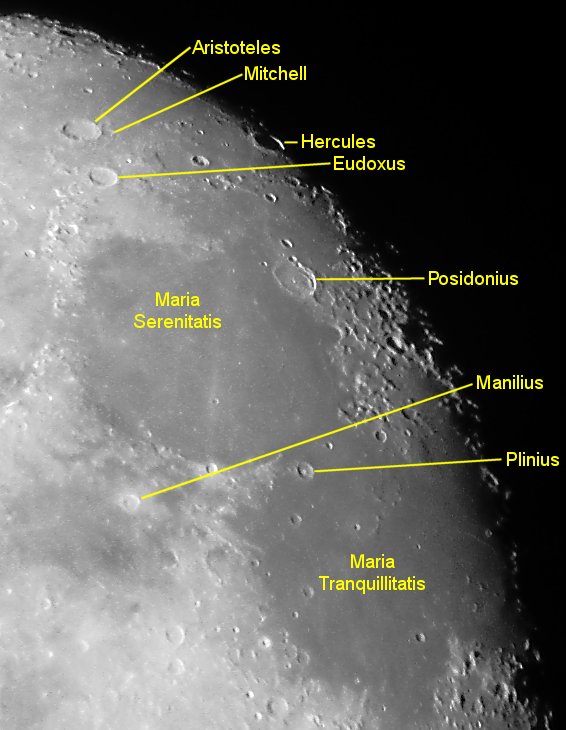 Lunar image without labels.
The above image is resized to one half of the Nikon Coolpix 990 camera resolution and cropped to 566 x 730 pixels. Complete moon view at 18 Days 9 Hours old.
Moon Information
Age of Moon: 18 days, 10 hours, 35 minutes
Moon phase: 85% (0% = New, 100% = Full)

Nikon Coolpix 990 Photo Information
DSCN3135.JPG
CAMERA : E990V1.1
METERING : MATRIX
MODE : M
SHUTTER : 1/15sec
APERTURE : F4.0
EXP +/- : 0.0
FOCAL LENGTH : f23.4mm(X1.0)
IMG ADJUST : STANDARD
SENSITIVITY : ISO100
WHITEBAL : SUNNY
SHARPNESS : HIGH
DATE : 2002.12.23 03:54
QUALITY : FULL FINE


Image processing with JASC Inc. Paint Shop Pro Version 7.04
Split RGB, image process green only, discard red and blue
Image, Sharpen, Unsharpen Mask
Image, Sharpen, Unsharpen Mask
Nose, Edge Perserving Smooth
Image, Sharpen, Unsharpen Mask
Adjust with curves
Resized
Image, Sharpen, Unsharpen Mask
Crop

Imaging Equipment Configuration
Nikon Coolpix 990 Digital Camera afocal coupled to a ScopeTronix, Inc. STWA18 Wide Angle 18mm Eyepiece/Adapter with a Tele Vue 2X Barlow on an Orion Telescopes & Binoculars ShortTube™ achromatic 80mm aperture refractor, f/5 focal ratio, 400 mm focal length (800 mm focal length with 2X Barlow).

Use Test patterns to calibrate monitor brightness, contrast, height and width