Saturn, M44 and M67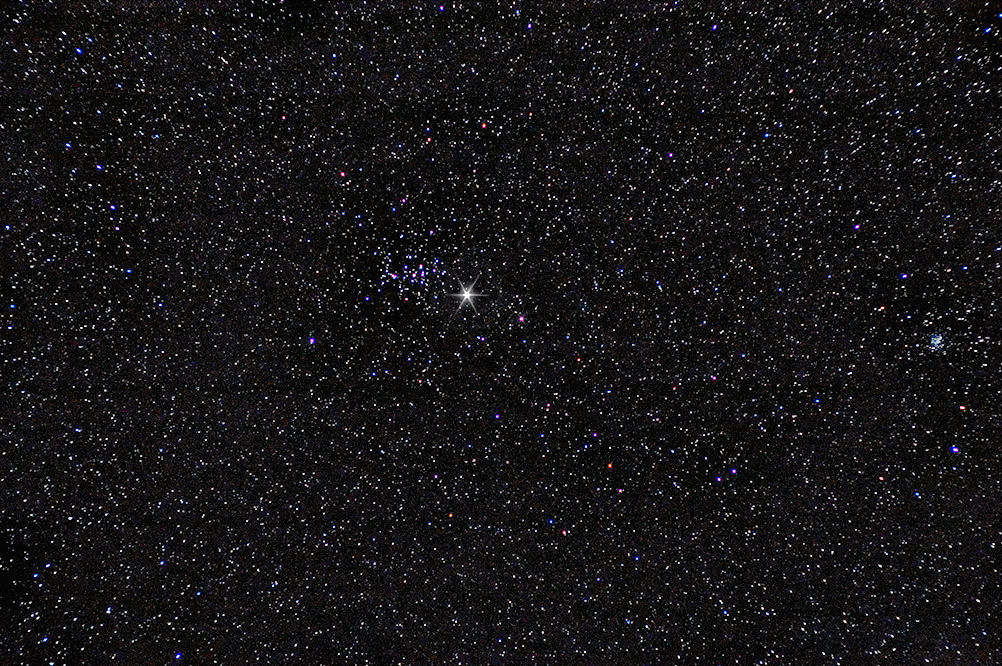 Image Information
Saturn is bright in the center
M67 is at far right edge of image
North is close to the left edge of the image and west is close to top
Faintest stars in image: about 12 magnitude
Image taken from driveway
Nikon D70 Photo Information
DSC_5268.NEF image information
2006/01/24 23:52:50.8
RAW (12-bit) Lossless
Image Size: Large (3008 x 2000)
Lens: 85mm F/1.8 AI
Focal Length: 85mm
Exposure Mode: Manual
Metering Mode: Center-Weighted
183.20 sec - F/2.8
Exposure Comp.: 0 EV
Sensitivity: ISO 200
Optimize Image: Normal
White Balance: Direct sunlight
AF Mode: Manual
Flash Sync Mode: Not Attached
Color Mode: Mode Ia (sRGB)
Tone Comp: Auto
Hue Adjustment: 0°
Saturation: Normal
Sharpening: Auto
Image Comment:
Noise Reduction: Fixed Pattern
Equipment
Nikon D70 DSLR on a star tracker
Star tracker is also called a Scotch mount, Haig mount, or barn-door mount. It is a door hinge with a bolt that is turned by hand to track the sky. In this case the bolt was hand turned for 183.2 seconds.
My star tracker was made out of a Stanley 10 inch metal hinge and a 1/4-28 bolt. The Star tracker was mounted on a old tripod.
For more information see the out of print book "Handbook for Star Trackers&quot by Jim Ballard.