| | | |
| --- | --- | --- |
| Messier M63 unprocessed image | Galaxy Imaging Processing & Astro Artistry | Messier M63 processed image |
Imaging processing calibrates the image with respect to the CCD camera that took the image. Also, imaging processing extracts a better signal to noise by combining multiple images. Astro artistry emphasizes a personal preference of presenting the image.
The above two Messier M68 spiral galaxy images show a single uncalibrated image and the result of calibrating, combining and processing 64 images into one image. These images are a small 150 x 92 sub frame of the complete 640 x 480 image. The small white dots in the uncalibrated image are hot pixels camera defects that can be removed with a calibration procedure and are not stars.
This is a typical imaging processing procedure I have been using on Fastar images as of March 2001. AIP4WIN, MaxIm DL and Paint Shop Pro are used for imaging processing. Some of the below steps are detailed menu setups in MaxIm DL.
Setup directories and files
Create an image directory
Copy imaging process notes text file into this directory from the last imaging session. This text file provides a starting point of what I did from the last imaging session and is a history of how I preformed the imaging processing of this object when I have completed.
In the image directory create Master directory for the image files
In the image directory create Dark Calibration directory for the dark frames
In the image directory create Flat Calibration directory for the flat frames or flat camera master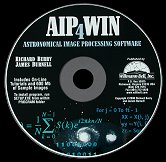 Check quality of files
Use AIP4WIN to measure statistics on all images files, load statistics file into Microsoft Excel and sort by day and time. Check max PV, mean, mode and std dev for unusual values. Copy only the good files into their directories.
Create master dark frame and use a previous camera flat.
Use AIP4WIN to average dark frames and save the master dark in the Dark Calibration directory. A dark frame is a image at the same temperature and time that the image was taken.
Use a ST-237 camera master flat taken from the past and copy it to the Flat Calibration directory. A camera flat is a uniform white image taken without any telescope or lens.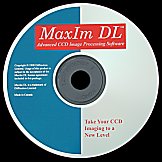 Calibrate raw image files in MaxIm DL (All the below steps to Paint Shop Pro are in MaxIm DL)
Load all master raw images files into MaxIm DL
Process Set Calibration
Dark Frame Scaling None
No Bias Frame
Select master Dark Frame from the Dark Calibration directory
Select master Flat Frame from the Flat Calibration directory
Process Calibrate All
Images are now calibrated
Combine calibrated images into one image for better signal to noise level
Process Combine
Auto - star matching
Median (I have found that median is better than MaxIm DL sum or AIP4WIN average)
Save as Mxxcalmedian.fit IEEE Float
Mxx is the name of a Messier object.
Window Close All to quickly remove all files in MaxIm DL. The calibrated image will be opened in the next step.
Remove the gradient and correct image view.
Open Mxxcalmedian.fit
View image with the Line Profile for the gradient
Process Flatten Background
View image with the Line Profile for left over gradient
Mirror to correct Fastar image optics
Save as Mxxcalmedianflat.fit IEEE Float
Use MaxEnt to bring out detail.
MaxEnt Set Point Spread Function
Function Type
From Image
Select from Image a non-saturated star with clean background close to the object of interest.
MaxEnt Set Noise
Distribution
Poisson
Extract from image
Select large circle with uniform background noise without stars next to the object of interest. Photons per ADU 7. (notice the ST-237 ADU specification is 4, but currently I have been using 7, this an area of future testing)
MaxEnt Run maxEnt
Image Actual
Run the number of iterations up to 100
Record best looking iteration numbers as it goes to 100.
Close MaxEnt
Screen Stretch image for best display
Save as Mxxcalmedianflat100max.fit IEEE Float
Select the best MaxEnt iteration
Rerun MaxEn on the Mxxcalmedianflat using the above recorded iteration numbers to find best iteration.
Save as Mxxcalmedianflatyymax.fit IEEE Float with yy as the iteration number.
Use Digital Development to improve the display dynamic range and to provide sharping.
Process Digital Development
Filter FFT-Low-Pass
FFT Hardness Medium (select Mild, Medium or Hard)
DDP parameters
Background Auto
Mid-level Auto
Complete Digital Development
Screen Stretch image for best display
Save as Mxxcalmedianflat100maxDDP.fit IEEE Float

Save as a TIFF so that it can be used in Paint Shop Pro
Save as TIFF Images, Size Format 8-bit Int, Check Auto Stretch, and Uncompressed
Use Paint Shop Pro to remove edge gradient from the median combine process and other gradients it they exist. Save as a new TIF file for future use and save as a JPG for web usage.