Oregon Star Party 2004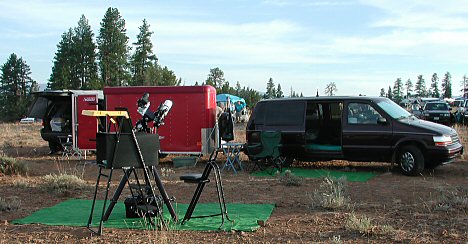 Preparation
Preparation for the (OSP) Oregon Star Party started on Saturday 7, 2004 with cleaning and packing astronomy equipment and camping equipment. Saturday through Tuesday I imaged a large group of sunspots moving across the Sun with the Meade LPI and Orion ShortTube™ 80 mm Refractor.
Tuesday August 10, 2004
I left home for OSP at 11:00 am after imaging the Sun and arrived at OSP around 5:00 pm. The GPS indicated my OSP observing location was longitude West 120° 8' 34.62" latitude North 44° 17' 55.79" at 5026 feet. The focus of Tuesday's night imaging was M8 and M20 with a Nikon D70 using a 180mm ED lens. Many Perseids meteors were seen throughout the night. Wednesday morning at 3:00 pm I imaged a 25 days 6 hours 50 minutes old moon with the Meade LPI camera and Orion 80mm.

Wednesday August 11, 2004
I took some Sun images during the day and at sunset.
The focus of Wednesday's night imaging was Perseids meteors with the Nikon D70 using a 18 mm lens and four 35mm film cameras. The film cameras with their faster lens provide better meteor images than the Nikon D70. Perseids meteors provided a very nice show throughout the night. The below Perseids Meteors were the brightest of nine that was taken from a camera that took 19 photos aimed to the East throughout the night.

Thursday August 12, 2004
Thursday high clouds prevented solar imaging. On Thursday afternoon I gave an Webcam & LPI Imaging presentation. Below are the presentation, links and references to software shown in the presenation.
Webcam and LPI Imaging presentation PDF WebcamOSP2004v06.pdf file format, size: 5,322KB

CCD Reference List version 3.4, June 25, 2004 PDF ccdref34.pdf file format, size: 62KB

Philips ToUcam resources

Meade LPI resources

Imaging processing

Irfan Skiljan IrfanView

Cor Berrevoets Registax

Peter Katreniak K3 CCD Tools

JASC Inc. Paint Shop Pro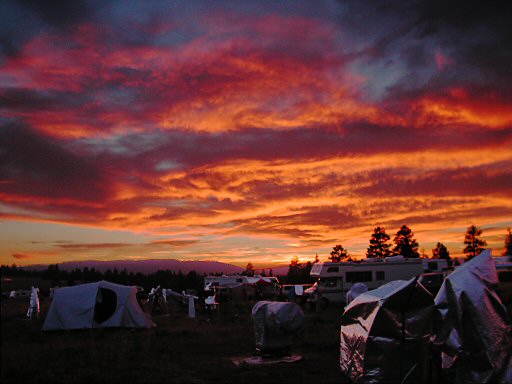 Thursday evening sunset was very colorful and later in the evening the clouds cleared enought to start imaging. The focus of Thursday's night imaging was comparing M31 images taken with two different filters, a Hoya HMC Super UV(0) filter and a Lumicon International minus violet filter, on a Nikon D70 180mm ED lens. The minus violet filter provided better images. Many Perseids meteors occurred throughout the night.

Friday August 13, 2004
On Friday clouds prevented solar imaging. At 11:30 pm a sucker hole opened up around Cepheus and I tried to image IC1396 but the clouds quickly closed up the hole.

Saturday August 14, 2004
On Saturday clouds and rain prevented solar imaging and Saturday night only the brightest stars could be seen through the clouds.

Oregon Star Party 2004 Observing Reports
Oregon Star Party 2004 Photos