d

current page:
Current>
Public Events






d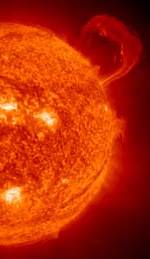 Public Events
We like to share our interest in astronomy with our neighbors, so the N.A.A. regularly holds events which the public is invited to. They are always free of charge. If you or someone you know (spouse, child, neighbor, co-worker, etc.) has a little smidgen of interest in what's up there in the sky, coming to our events is a way to explore that interest without having to go out and buy your own expensive equipment! (Of course, folks with a really big interest in astronomy are welcome, too!)
Both our regular monthly meetings and out Astronomy Fundamentals programs are normally open to the public, and are free of charge. Check our Club News & Events page for information on upcoming programs.
We also like to let everyone look at the wonders of the Universe through our telescopes. All year 'round, we schedule observing events which are open to the public and free of charge. On the calendar on the Club News & Events page, look for the green events to see what we have coming up. Some events are held along the Riverwalk Park in downtown Naperville, and others at our observatories at our Astronomy Education Center; see the Map page for directions. For events at the observatories, please be sure to read the Special Access Considerations section of the Map page for information about the restrictions on public access to the Astronomy Education Center site.
For observing events scheduled at our Astronomy Education Center, we will post real-time "Go" or "Cancel" notifications several hours in advance on the home page of this website, allowing us to spread the word about last-minute weather related event cancellations. Be sure to check there before coming out if the skies look at all questionable.
---
The N.A.A. also regularly schedules private observing sessions for youth groups and other community groups; if you see those listed on our calendar, sorry, but additional guests are not welcome. But, you can arrange a session for your own group just by contacting us; see the Contacts page for more information!