Emission Lines Redshift Analysis Table


Redshift Analysis Table

The average of the measured H-alpha, O[III], H-beta and H-gamma redshifts is z=0.29615 which is 0.29%: lower than z=0.297000 in the NASA-IPAC Extragalactic database.
Analysis with the Redshift
The following analysis uses KUV18217+6419 redshift (z=0.29615).
NED parameters for distances and cosmology: Ho= 73.0; Ωmatter = 0.27; Ωvacuum = 0.73;
Enter into Ned Wright's Cosmology Calculator

Ho= 73.0;
Ωmatter = 0.27;
KUV18217+6419 measured z= 0.29615;
Ωvacuum = 0.73; and
Press the general button as shown below in the screen capture with the calculated data.

Ned Wright's has an excellent tutorial at the bottom of the Cosmology Calculator.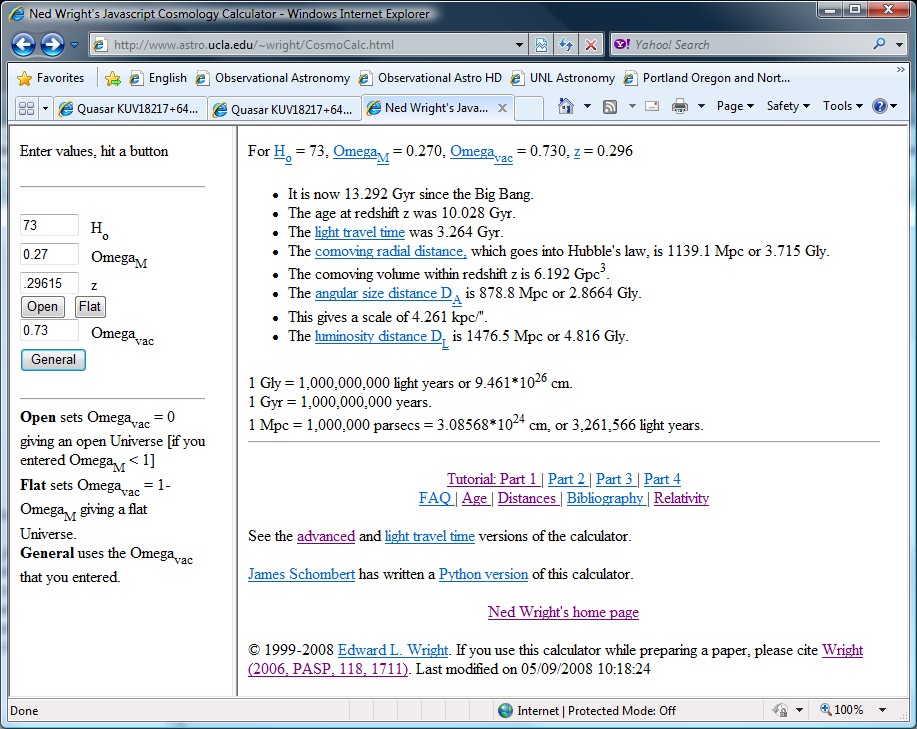 Ned Wright's Cosmology Calculator, Wright (2006, PASP, 118, 1711)


Pine Mountain Observatory (PMO) Workshop August 5-8, 2010

The following test pattern is to help you adjust your monitor to best view the CCD astro images. The test pattern is used for adjusting monitor brightness, and contrast. Adjust monitor brightness and contrast to see all 16 gray scale levels. The most important adjustment when viewing astro images is to see the differences in all of the black bands.