Eta Ursa Minoris Spectrum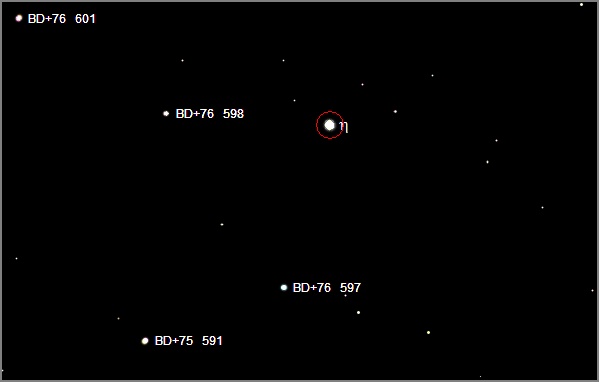 Summary
The first order blazed grating spectrum is located on the right side of the star. The processed spectrum band is below the blazed grating spectrum. Spectrums of Eta Ursa Minoris and four bright stars from top to bottom in the above image:
BD+76 601, SAO 8489, spectral type: K2 D ~
BD+76 598, SAO 8480, spectral type: F8 D ~
Eta Ursa Minoris, LTT 14869 -- High proper-motion Star, SAO 8470, HD 148048, spectral type: F5V D ~
BD+76 597, SAO 8472
BD+75 591, SAO 8482, spectral type: K0 D ~
Image File: Eda Ursa Minoris -001100s.fit
Exposure Time: 100 seconds
Focus was in the H-alpha part of the spectrum
Star Catalogs
Smithsonian Astrophysical Observatory Star Catalog: SAO
Henry Draper Catalogue: HD
Bonner Durchmusterung Catalogue: BD

Spectroscopy Team
The spectrum image was taken by the below spectroscopy team.










The following test pattern is to help you adjust your monitor to best view the CCD astro images. The test pattern is used for adjusting monitor brightness, and contrast. Adjust monitor brightness and contrast to see all 16 gray scale levels. The most important adjustment when viewing astro images is to see the differences in all of the black bands.