Moon H-alpha Spectrum 2011-02-08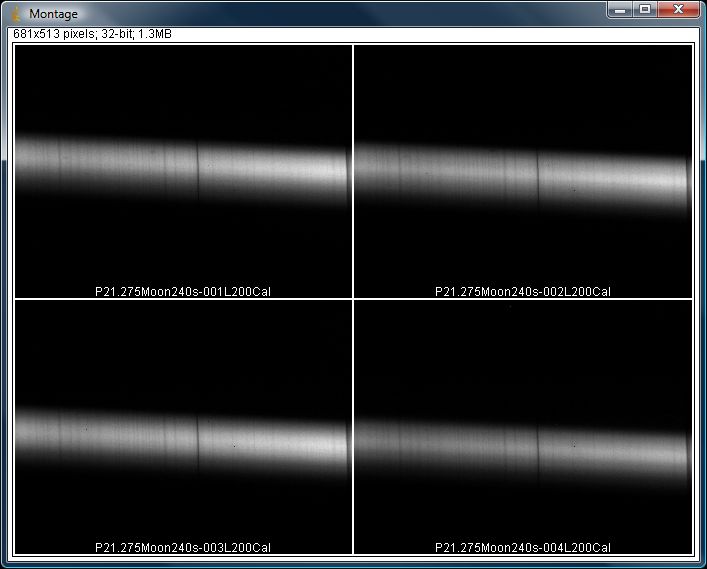 The above four Moon H-alpha spectrums were taken with the Spectra L200 spectrograph.
This was the first night out with the unpainted Spectra L200.
I felt good about how similar all the spectrums were.
The next learning steps are:

Spectrum line identification of the smaller absorption lines.
Measure the H-alpha absorption line.

Image Detials
Angstom per pixel: 0.514
Spectra L200 micrometer was set to 21.275.
Spectrum order is the first order.
The Moon spectrum is moving across the slit as seen by the downward drift of the spectrum band from image one to image four over the 16 minutes span of these images.
The CCD camera was oriented so that the spectrum absorption lines are vertical on the CCD.
The spectrum band slant is normal for the Spectra L200 Littrow design.
Four 240 seconds spectrum images were taken.
Five 240 seconds darks were taken.
Dark calibration was done with Diffraction Limited MaxIm DL V5.07.
The spectrum analysis was done by ImageJ.
Observing Information
Age of Moon: 5 days, 11 hours
Moon phase: 30%
Mount tracking the Moon, but not guiding.
OBS-Location: Driveway north of Camas, WA USA, 16.6 miles East-North-East from the center of Portland, OR.
Image taken through the Portland, OR USA sky glow.
DATE-Local = February 8, 2011 at 8:58 pm PDT to 9:10 am PDT.

Spectrum Band
Full scale spectrum band with short wavelengths on the left and the long wavelengths on the right.
The spectrum is linearly scaled between the intensity 20 to 230 to better see the spectrum details.
No sharpening or other image processing was done on the spectrum band.
ImageJ was use to create the spectrum band.

Spectrum Chart
Chart of six spectrums of the Moon.
Each spectrum is normalized to 0 to 1.
Each spectrum is offset from each other.
The middle four white spectrums are 240 seconds with single point calibration at H-alpha.
The top yellow spectrum is the four spectrums average after each spectrum was calibrated.
The bottom yellow spectrum is the four spectrums stacked in MaxIm DL V5.07 and then single point spectrum calibration was done.
H-alpha absorption line is in the center of the chart at 6,562.81 Ĺ.
02 atmosphere absorption atmosphere absorption band is at the far right at 6,867 Ĺ.
ImageJ was use to create this spectrum chart.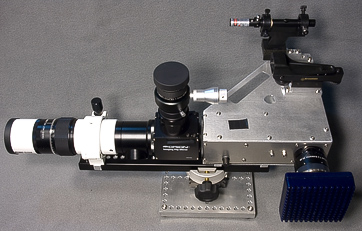 Imaging Equipment
Spectra L200 Spectrograph

The diffraction gratings is an Optometrics 600 g/mm ruled 500 nm blaze.

The Meade Deep Sky Imager III™ (DSI Pro III)camera specifications

CCD Sensor: High Sensitivity Monochrome Sony EXview HAD™ CCD Sensor
Sensor Model:ICX285AL
Pixel Size: 6.45 microns (w) x 6.45 microns (h)
Chip Dimensions in Pixels: 10.2mm (w) x 8.3mm (h); 11mm diagonal (type 2/3) 1360 x 1024 pixels (1,392,640 pixels)

Astro-Physics 1200GTO German Equatorial Mount