Tektronix MDO4104-6 Spectrogram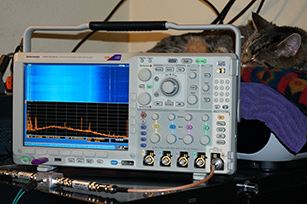 Tektronix MDO4104-6 Mixed Domain Oscilloscope spectrum analyzer setup for monitoring the solar radio emissions and Jupiter decametric radio emission from 17.5 MHz to 24 MHz.
Frequency settings

17.5 MHz start frequency
20.75 MHz center frequency
24 MHz stop frequency
6.5 MHz frequency span
650 kHz per horizontal division

6.5 MHz capture bandwidth

MDO4104-6 is a DFT type of spectrum analyzer which shows all the signals in the capture bandwidth at the same time.

100 Hz resolution bandwidth
-25 dBm reference level
5 dBm per vertical division
The top blue window is the spectrogram

The bottom black widow is the spectrum analyzer trace of the current acquisition.

Spectrogram bottom is the current spectrum trace shown at the bottom of the display.

~7 seconds spectrum update rate
Spectrogram top is the oldest spectrum, approximately 30 minutes after the current spectrum trace at the bottom.
Spectrogram signal intensity is represented by colors

Dark blue: low signal amplitude
White blue: medium signal amplitude
Red: high signal amplitude

Date and time in lower right corner is in UT.

local time PST, USA (UT -8 hours)
local time PDT, USA (UT -7 hours)

Spectrogram at May 16, 2014 at 03:10:00 UT.
The first set of strong vertical signals from the left edge are the 17.5 MHz to 17.9 MHz broadcasting stations.

The strongest broadcast radio stations are solid vertical lines in the spectrogram.

The second set of strong signals from the left edge are the 17 meter (18.068 MHz to 18.168 MHz) amateur radio band.

Amateur radio signals are short transmissions and look like dots or vertical dashes in the spectrogram.

Radio station WWV at 20.0 MHz is the blue vertical line (with a few gaps in the line) in the spectrogram just over one division left of center.

WWV distance is 1,511 km with a bearing of 105.3 degrees.

The strong set of signals just right of the center frequency is the 15 meter (21.0 MHz to 21.45 MHz) amateur radio band.
The other faint horizontal lines in the spectrogram are lighting or RFI bursts.
The antenna sensitivity peaks on the left side of the spectrogram.

This results in the background noise being a lighter blue color and it is the vertical broad white-blue band on the left side of the spectrogram.

Sunset on May 15, 2014 was 19:16 PDT, (03:16 UT on May 16, 2014)
Observing Location : Camas, WA USA, 16.6 miles East-North-East from the center of Portland, OR, USA

Camas (Longitude: West 122.68 degrees & Latitude: North 45.52 degrees)
Spectrogram at May 16, 2014 at 03:39:58 UT.
In the below spectrogram (03:10:00 UT) the top of the spectrogram is the same as the above spectrogram (03:39:58 UT).

United States Frequency Allocations