Venus Transit, June 5, 2012
by Dennis Allen
We had a pretty good turnout down at the Muskegon Michigan Beach. Many people turned out to see this once in a lifetime event. Jim, Mark, Craig, Bill DeVette, Mike Galvin, Richard Zimmerman, Gary Spencer, and a few other members managed to come out. Lots of visitors. The weather cooperated nicely, only occasional clouds and cool.

I spent the morning trying to convert my 13" Coulter telescope from visual to photographic. I remounted the main mirror two inches up the tube, but still couldn't get my camera to focus. Nuts. I wasn't going to drill out yet another set of holes, so I dug around my camera case. Found an old variable eye-piece adapter. The main body fits snug into a two inch focuser and has a standard t-thread adapter. Using an extra Canon bayonet t-thread, I was able to mount it to my camera. The adapter gives me at least an inch more travel than using my off-axis guilder. Enough to finally get the camera to focus. Hurray, I can do the transit! And the next time we have a transit of the international space station across the sun, I'll be ready.

When I got down to the beach, several members were already set up. I unloaded my 13" Coulter and got my platform running. Haven't used it in twenty years, but it worked fine. Helps to have it pointed in the right direction<g> I also brought the club 4" edmund telescope. Jim, Craig, and Mark brought their telescopes. Mark also brought out our new Coronado solar scope. Good thing too, we needed every scope to handle the crowd.

Jim forgot a power cable, but was able to borrow a spare. Richard had his 12" telescope, but no solar filter. Fortunately, Bill DeVette had an extra piece of exposed film. Images were a little dark, but looked good. It's nice to have fellow members who have been to this kind of rodeo before.

First contact was just after six. Everyone was able to take images of Venus as it crept into the disk of the sun. Nice looking images of sunspots 1493, 1494, 1496, 1497, 1498, 1499 and 1500.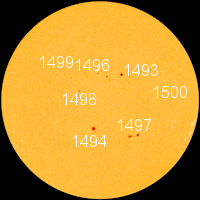 Now many visitors tried to take a picture of the transit, putting their iphones up to the eyepiece. Some were successful, others not so much. I just noticed that the latest Orion catalog has a 1.25" eyepiece iphone adapter. Darn. We could have used one at the event.
Got a call from visitors who were at our observatory. They were wondering why there wasn't any members there. I informed the visitors that we were at the Muskegon water filtration plant and instructed them how to get to the beach.

This was a six hour event. In Muskegon, we only saw the first half. People on the west coast and Hawaii were able to get most of it. Except for a few passing clouds we were able to follow the sun right down to the horizon. From our location, the sun slid right behind the main lighthouse. Neat!
Now several members who viewed today's transit were at the Yacht club to witness the June 2004 transit of Venus. Still, it was nice to witness this event. The only way I'll be able to see the next transit in 2117 is from a pickle jar!


Images Copyright © to the photographer listed. All Rights Reserved.
[Return to Top]
[Go to Home Page]
Copyright © 2005 Muskegon Astronomical Society, Inc.

This web page was last updated 08/29/17