Supernovae SN 2011fe is the the bight star in the center of the image.
Supernovae SN 2011fe is in M101 galaxy.
The purpose of this image is to measure the brightness of SN 2011fe using a V filter.
This is the first light image for the Celestron C9.25.
The image was taken through the Portland, OR and Vancouver, WA. USA sky glow.
No guiding was done.
Image scale is 50%.

Observing Information
Sunset 18:55
First image taken at 9-29-2011 20:20 PDT ( 9-30-2011 3:20 UTC)

2011/09/30.139 UTC
Azm: 312°29'39" Alt: +37°55'35"
Air mass: 1.63

Twilight Ends 20:34
Last image taken at 9-29-2011 21:00 PDT ( 9-30-2011 4:00 UTC)

2011/09/30.167 UTC
Azm: 316°11'24" Alt: +32°54'46"
Air mass: 1.84

OBS-Location: Home on the driveway at Camas, WA USA, 16.6 miles East-North-East from the center of Portland, OR and east of Vancouver, WA.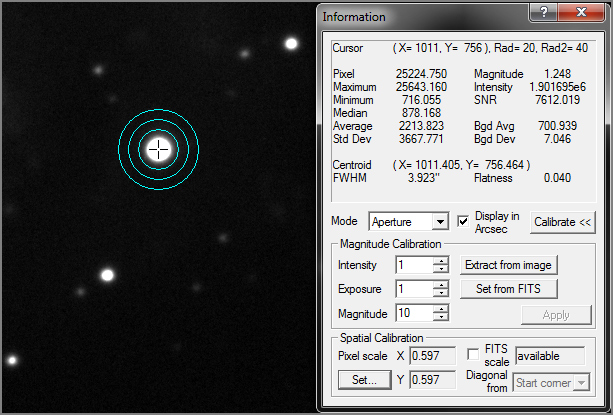 Equipment
Camera: QSI 532ws-M1 CCD camera.
Filter: V Astrodon-Schuler Johnson-Cousins/Bessell filter.
Edmund Optics T-Mount Extension Tube 20mm (NT53-231).
Celestron EdgeHD T-Adapter 93646.
Telescope: Celestron C9.25 aplanatic Schmidt telescope 235 mm aperture, f/10 focal ratio, 2350 mm focal length.
Finder: Celestron 9 X 50mm Finder Scope.
Orion dew shield.
No guide scope or guiding.
Mount: Astro-Physics Mach1GTO German Equatorial Mount with GTOCP3 Control Box and two 9 lb weights.

Imaging Processing
Four 10 minutes images stacked (40 mintues total).
Half Size Image.
North is Up and to the Left.
Image calibrated with darks and flats.
2X2 Bin, DPP, Local Adaptive Filter.
Add black offset, Curves and set the black point and white point.
Crop stacked image edge affects and covert to JPG for web page.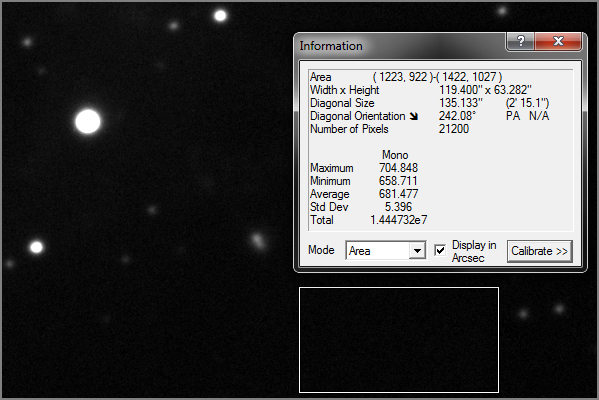 Mesurements on Full Size Calibrated Image
0.597 arcsec/pixel.
SN 2011fe FWHM 3.923"
SN 2011fe Flatness 0.040 with no guiding.
Background Average 700.939
Background Std dev 7.046
The following MaxIm DL background measurements are of the white selection box.
Background Average: 681.477
This high background level is from Portland, OR and Vancouver, WA USA light pollution.
Background Standard Deviation: 5.396
Background Average/Standard Deviation: 126.292 background to noise ratio.
SN 2011fe Maximum: 25,643.160
(SN 2011fe Maximum Signal - Background Average)/(Background Standard Deviation) = SN 2011fe Maximum to Background Noise Ratio: 4625.96

SN 2011fe Profile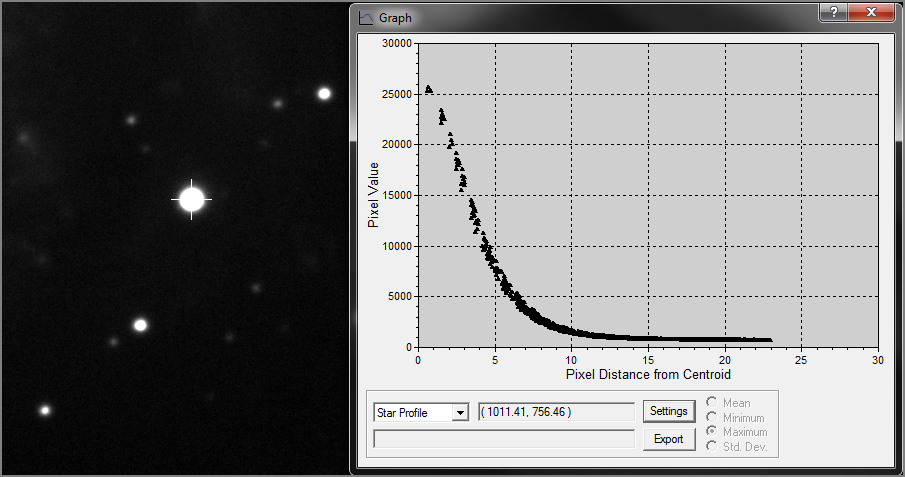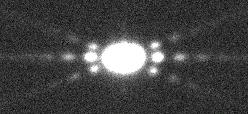 Focusing
Spike-a.com 12 inch Bahtinov Mask was used for focusing.

Polar Alignment
A Lumicon Deluxe 80mm Super Finder with correct-image diagonal and a 25mm Kellner crosshair Eyepiece was used for polar alignment and then it is removed from the mount after polar alignment.
The first polar alignment step, the finder and mount are adjusted so that Polaris stays centered in the crosshair when the mount RA is rotated 180 degrees. This aligns the finder with the mount RA axis.
The final step is adjusting the mount altitude and azimuth to put the crosshair on the north celestial pole using a star chart. The diamond ring star pattern around Polaris aids in this final alignment and a star chart is not needed once you do this alignment a few times.
Now the mount RA is aligned to the north celestial pole. This polar alignment process takes about five minutes to do.