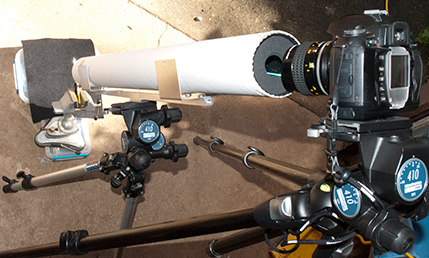 The spectroscope eaisly shows the Fraunhofer absorption lines for F, b4-1, E, D3-1 and C.
Fraunhofer absorption lines chart is from Wikipedia with a slice of the solar spectrum image overplayed on it. The spectrum photo is not linear and does not fit exactly on the Fraunhofer absorption lines chart.
Dark Fraunhofer absorption lines identified in the spectrum image.
F: hydrogen beta
c: iron
b4-1: magnesium triplet
E: iron
D3-1: sodium doublet

Spectrum Anaylsis from Hydrogen Beta to Sodium Doublet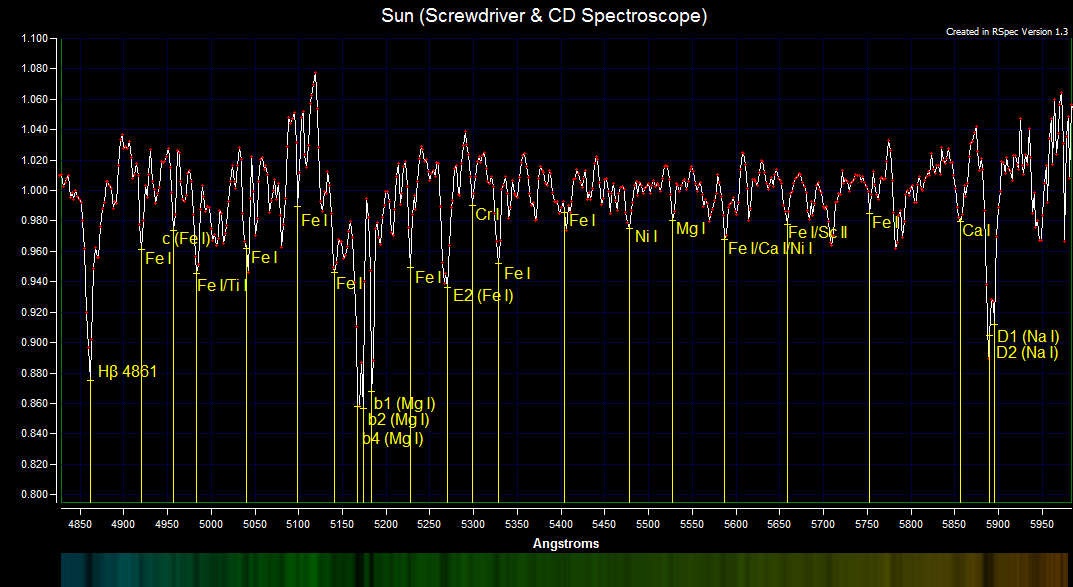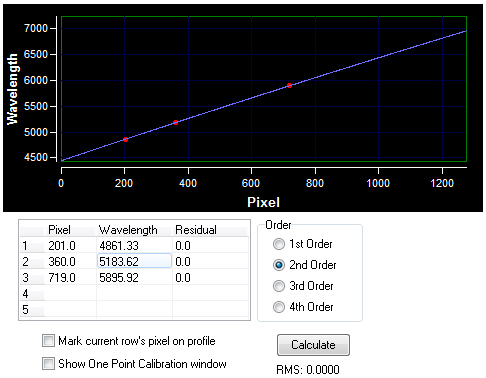 The above spectrum profile is the solar spectrum (uncalibrated intensity data) that has been divided by the shape of its own continuum to remove the continuum.
The solar spectrum was wavelength calibrated using RSpec 2nd order on hydrogen beta, the magnesium triplet and the sodium doublet.
The difference between the CCD camera pixels at the magnesium triplet wavelength is 2.01 Å.
It is impressive that a simple screwdriver and CD shows so many dim absorption lines that match correctly to the elements and resolves the magnesium triplet and the sodium doublet.

Solar Spectrum


Solar Hydrogen β Spectrum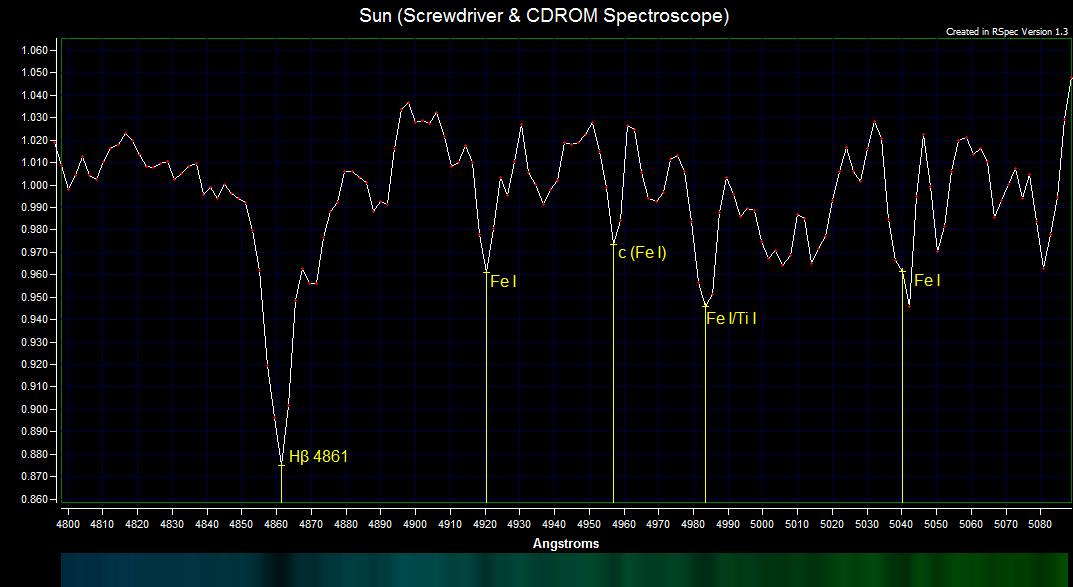 The hydrogen β absorption line contains three strong H I β lines that merge into one line.
Hydrogen Beta Spectrum Energy Levels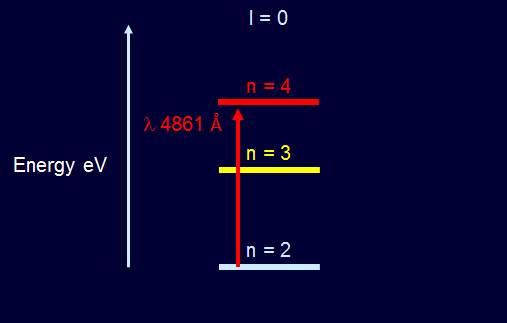 Solar Sodium Doublet Spectrum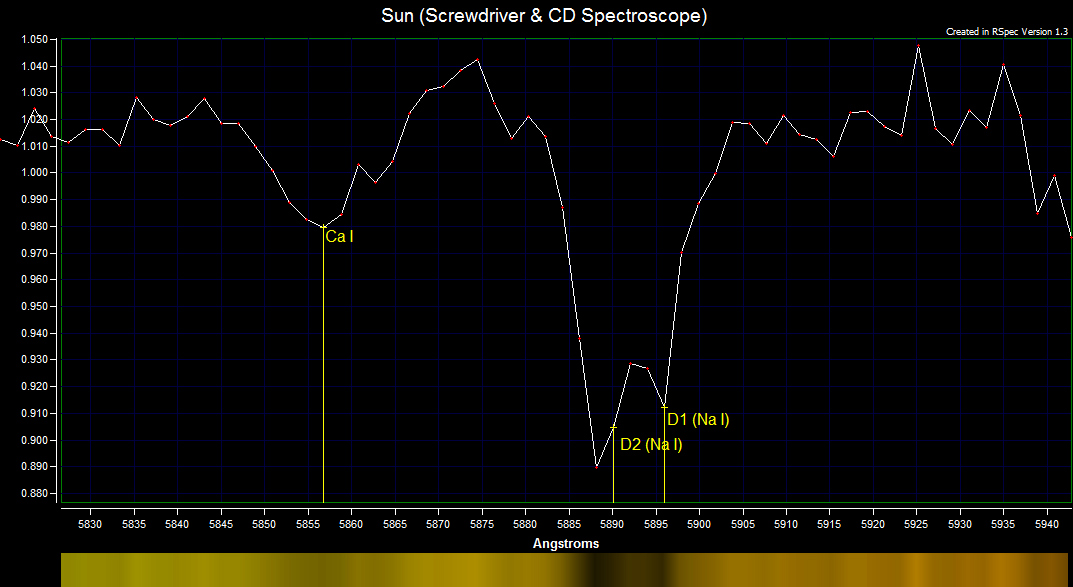 The sodium doublet contains two strong lines of sodium.
The sodium doublet is caused by the absorption of light at λ 5890 Å and λ 5896 Å. The sodium atom absorbs the light and the sodium electron jumps from the n=3, l=0 level to the n=3, l=1 s=+½ level or n=3, l=1 s=-½ level.
Sodium Doublet Spectrum Energy Levels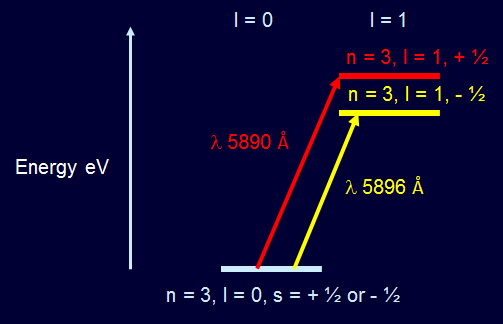 Solar Magnesium Triplet Spectrum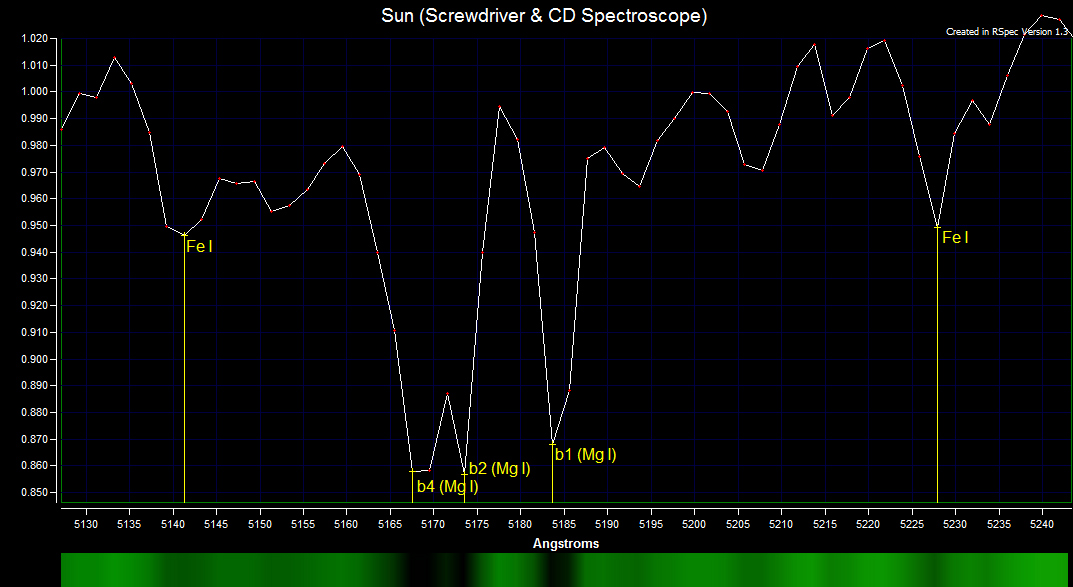 The magnesium triplet contains three strong lines of magnesium and one strong line of iron. There are weaker lines of iron that are not resolved in the magnesium triplet. The b4 absorption line is composed of Mg I 5167.322 Å and Fe I 5167.4883 Å and is wider than the b2 Mg I 5172.684 Å and b1 Mg I 5183.604 Å absorption lines.

Web Pages with Solar Magnesium Triplet and Sodium Doublet Spectrums


Atomic Structure and Spectroscopy