Exploring the Night Sky
By Dennis Luse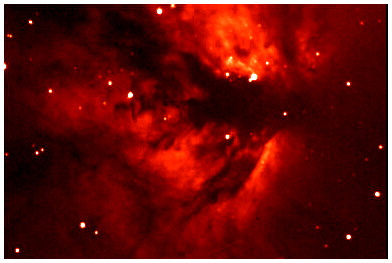 Welcome to the "Exploring the Night Sky Page," dedicated to all of us who enjoy exploring the universe . This web page contains images and techniques used for CCD imaging with the SBIG ST-7 camera and the LX200 telescope. Also included are tips for basic astrophotography.
New!! Color Images and "ARGO" our remote imaging site.
These web pages were created by Dennis Luse who helped many astronomers to learn about astroimaging. He passed away on 10/31/2000 and he will be missed by those who knew him.
Portland, OR
Oregonian News Paper
11/03/2000
FRIENDS OF DENNIS E. LUSE
A memorial service will be at 10:00am Saturday, Nov. 4,2000, in Finley's Sunset Hills Mortuary for Dennis Eugene Luse, who died Oct.31 of a heart attack at age 58.
Mr. Luse was born Sept. 28, 1942, in Missoula, Mont., and was raised in Portland. He graduated from Jefferson High School and then served in the U.S. Air Force. After military service, he was a mechanic for United Airlines in Fremont, Calif., and Portland. He later joined the Veterans Administration Medical Center as a ward clerk and was assistant chief of the center's computer center when he retired in 1996. In the 1970s, he wrote a fishing column for the Sandy Post. Dennis was an excellent amateur astronomer, a very professional Astro-Imager. He was on the board of directors of (Image The Sky) and was an astronomy consultant for KOIN (6) and for the Oregon Museum of Science and Industry. He was also a Vice President of Community Affairs with the Rose City Astronomers.
In 1963, Dennis married Joan Vanbavel; they divorce. In 1986, he married Mary Holter; whom died in 1999. Just this past September, Dennis joined in matrimony to Julie Taylor.
Dennis loved ones include his wife; daughter, Kathy Laws; stepsons, Mark Rogers and Erik Rogers; brother, Clyde; sister, Sharon Allen; and three grandchildren.
Disposition is by cremation. The family suggests remembrances to the ROSE CITY ASTRONOMERS, attention Keith Allred, in care of Davis Wright Tremaine, 1501 Fourth Ave., Seattle, WA 98101.
&copy 1998